For the latest ETF industry news, please refer to our "Asia ETF Roundup (Industry) – November 2018".
Major Markets Performance
Global markets rebounded in November. The S&P 500 gained 1.8%, while Hong Kong's Hang Seng Index, Japan's Nikkei 225 and Korea's KOSPI rose 2-6%. The Chinese equity markets also rebounded, but we saw slightly different paths for the offshore (HSCEI +5.0%) and the onshore markets (CSI 300 +0.6%; Shanghai Composite -0.6%). This increase in the offshore Chinese equity market was fueled in part by Tencent (00700, listed in Hong Kong), as the firm's shares climbed 16.9%. The performance of emerging- and frontier-markets was mixed. Stocks in India and Indonesia rebounded strongly, rising 10.2% and 12.2%, respectively. Meanwhile Brazilian stocks took a breather. After jumping 17.8% in October Brazilian shares retreated 2.1% in November (all figures proxied by the respective MSCI country indices in U.S. dollar terms).
The U.S. dollar appreciated 0.1% in November (as measured by the ICE Spot Index). Asian currencies generally rebounded against the dollar, in particular, the Indian rupee and Indonesia rupiah appreciated 6% against the dollar. The Chinese Yuan strengthened 0.4% against the greenback, putting its year-to-date depreciation at 6.2%.
Precious metals' performance was mixed in November. Gold price rose 0.2%, while the price of platinum and silver dropped 3.5% and 0.7%, respectively.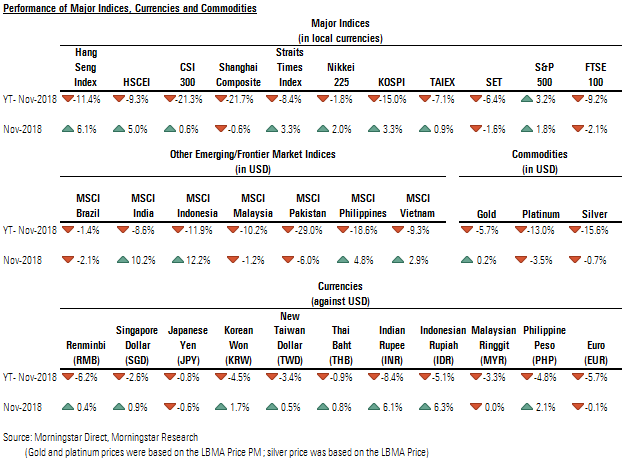 Economic and Market News
U.S. Keeps Rates on Hold; Philippines, Indonesia, South Korea Hike Rates
U.S. Keeps Rates on Hold – The U.S. Federal Reserve decided on 8 November to maintain the target range for its federal funds rate at 2% to 2.25%. The next FOMC meeting will be held on 18-19 December 2018.
Philippines Hikes Rates by 25bps – On 15 November, the Philippines central bank announced it would increase interest rates by 25bps to 4.75%. The bank has increased its key rate by 175 bps in total in 2018.
Indonesia Hikes Rates by 25bps – Indonesia's central bank raised its policy rate by 25 bps to 6%. The bank has increased its key rate by 175 bps in total in 2018.
South Korea Hikes Rates by 25bps – On 30 November, the Bank ofKorea raised its Base Rate by 25bps to 1.75%. The Bank last raised interest rate in November 2017.
Chinese Economic Data: Inflationat 2.5% in October; Official PMI Fell to 50.0 in November; Caixin/Markit PMI at 50.2
China's inflation rate registered at 2.5% in October, same as September's reading.
China's official PMI reading for November fell to 50.0, compared to October's reading of 50.2. Meanwhile, the Caixin/Markit PMI for November registered at 50.2, slightly higher than October's reading of 50.1.