For the latest ETF industry news, please refer to our "Asia ETF Roundup (Industry) – February 2019".
Major Markets Performance
Major equity markets generally continued on an upward trend in February with the US, the UK, Japan and Hong Kong market rising 2-3%. The China onshore markets were particularly strong in February (CSI 300 +14.6%; Shanghai Composite +13.8%). Mainland stocks surged following the news that the US had delayed a series of tariffs on Chinese goods that was scheduled to begin on 1 March. Emerging markets' performance was mixed. Stocks in Vietnam performed well, rising 8.6%, while stocks in Brazil, Indonesia and Pakistan dropped by around 5% (as measured by their respective MSCI indices in US dollar terms).
The US dollar appreciated 0.6% (as measured by the ICE Spot Index). Asian currencies generally depreciated against the greenback. The Japanese Yen and the Korean Won fell 2.2% and 1.1%, respectively. On the other hand, the Chinese Yuan rose slightly against the US dollar in February, appreciating by 0.3%, and putting its year-to-date gains versus the USD at 2.7%.
Precious metals' performance was mixed. Platinum rose another 6.1% in February, putting its year-to-date gains at 10.5%. However, gold and silver dropped for the month of February, slipping 0.3% and 1.6% respectively.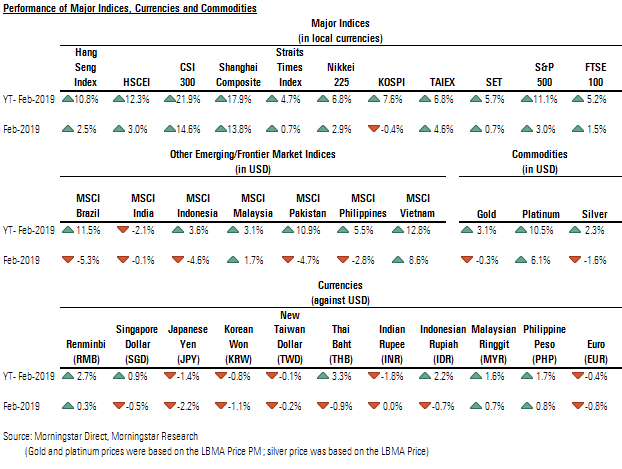 Economic and Market News
India Cuts Rates
India Cuts Rates by 25bps – The Reserve Bank of India decided on 7 February to cut its key rate by 25bps to 6.25%. This marks India's first rate cut since August 2017, which was followed by two rate hikes in 2018.
China Economic Data: Inflationat 1.7% in January; Caixin/Markit PMI Rebounded to 49.9 in February,Official PMI Fell Further to 49.2
China's inflation rate eased further to 1.7% for January from December's reading of 1.9%.
Both the China's official PMI and the Caixin/Markit PMI remained below the 50-point level. The official PMI dipped further to 49.2 in February from January's reading of 49.5. Meanwhile, the Caixin/Markit PMI rebound somewhat to 49.9 in February, compared to January's reading of 48.3.