For the latest ETF industry news, please refer to our "Asia ETF Roundup (Industry) – April 2020".
Major Markets Performance
In April, global economies remained in lockdown mode under the threat of COVID-19, but equity markets recovered. The S&P 500 rebounded 12.7%, putting its year-to-date performance at -9.9%. Key Asian markets also bounced back to varying degrees, Korea's KOSPI, Taiwan's TAIEX and Thailand's SET rose 11-16%. China's equity markets saw smaller gains ranging from 4-6% (HSCEI 4.7%; CSI 300 6.1%; Shanghai Composite 4.0%). Emerging markets also regained ground. Equities in India, Indonesia, Pakistan and Vietnam rose anywhere from 11-17% (proxied by the respective MSCI country indices in USD terms).
The U.S. dollar was little changed in April, depreciating 0.03% (as measured by the ICE Spot Index). Asian currencies generally appreciated against the greenback. The Indonesia Rupiah appreciated 9.7% after depreciating 12.0% in March. The Chinese Yuan appreciated 0.6% against the U.S. dollar, putting its year-to-date performance at -1.2%.
Precious metals' prices followed the broader equity market rebound. Gold, silver and platinum prices rose 6-10%. Oil prices had another volatile month. WTI Crude Oil Futures prices tipped into negative territory for the first time in history. The price of the front month May 2020 contract hit -$40.32 on 20 April, the day prior to its expiration.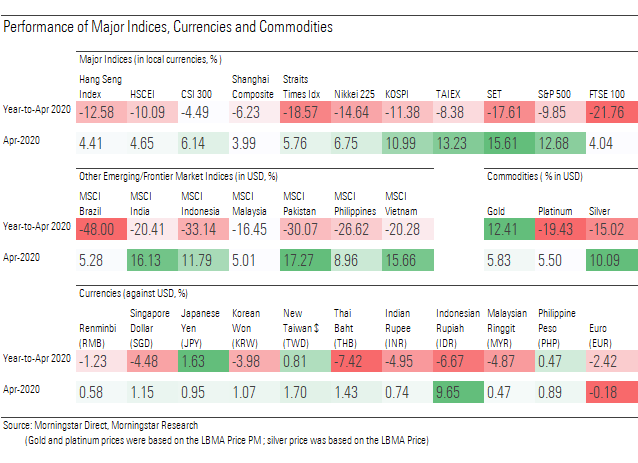 Economic and Market News
Rate cuts in The Philippines, Pakistan, China, Russia and many other emerging/frontier markets
The Philippines Cut Rates by 50bps – On 16 April, the central bank of the Philippines decided to cut the overnight reverse repurchase rate (RRP) by 50bps to 2.75%. The bank has cut rates by 125bps in total this year.
Pakistan Cut Rates by 200bps - On 16 April, the State Bank of Pakistan decided to cut policy rate by 200bps to 9.0%. The bank has cut rates by 425bps in total this year.
China Cut Rates by 20bps – On 20 April, the People's Bank of China decided to cut the one-year loan prime rate by 20bps to 3.85%. This is the second time this year the PBOC cut its benchmark rates, last time in February by 10bps.
Russia Cuts Rates by 50bps – On 24 April, the Bank of Russia decided to cut its key rate by 50bps to 5.50%. The bank stated that "we have switched to accommodative monetary policy". This is the second rate cut by the bank this year.
Other central banks in the emerging/frontier markets also cut rates during the month, for example, Kenya, Paraguay, Turkey, South Africa, Poland, Israel, etc.


China Economic Data: China GDP Shrinks 6.8% in Q1 2020; Inflation Slows to 4.3% in March; Caixin/Markit PMI and Official PMI Slowed
China's Q1 2020 GDP shrank 6.8%, marking the first contraction in 28 years.
China's inflation registered at 4.3% in March. This is a slower pace than the 5.2% reading in February. Pork prices also rose at a slower pace than the previous month, climbing 116%, compared to February's reading of 135%.
China's Caixin/Markit PMI slowed in April to 49.4 from March's reading of 50.1. The official PMI also slowed, but remained above 50, at 50.8, down from March's reading of 52.0.