Stocks in China appeared to have a fabulous second quarter, bringing returns for the first half of 2015 to nearly 34%.
But the story not told by the quarterly and year-to-date data in Figure 1 is, of course, that China A shares were sinking through much of June and had given up most of their 2015 gains by early July, when the Chinese government stepped in to stabilize the market.
China's stock market began rising in mid-2014, but buying became frenzied from November 2014 through June 2015, with two pauses in February and May (see Figure 2). Between 21 November and 12 June, the Shanghai Composite more than doubled. Half of the companies listed on the Shanghai and Shenzhen exchanges traded above 85 times earnings, even as the economy slowed and corporate profits fell. Then a selling mania then set in, wiping 32% of the index value through July 8.
Beijing tried desperately to limit the losses. Regulators banned sales by large investors, suspended IPOs, put caps on short-selling, mandated buybacks, and lent money to buyers. The Chinese Ministry of Public Security even announced it would arrest "malicious" short-sellers.
The market is still up for the year, but investors should not expect to end 2015 with gains even close to those posted at the end of Q2.
The Hang Seng, which rose 7.24% in Q2, suffered a fate similar to that of the Shanghai Composite in July.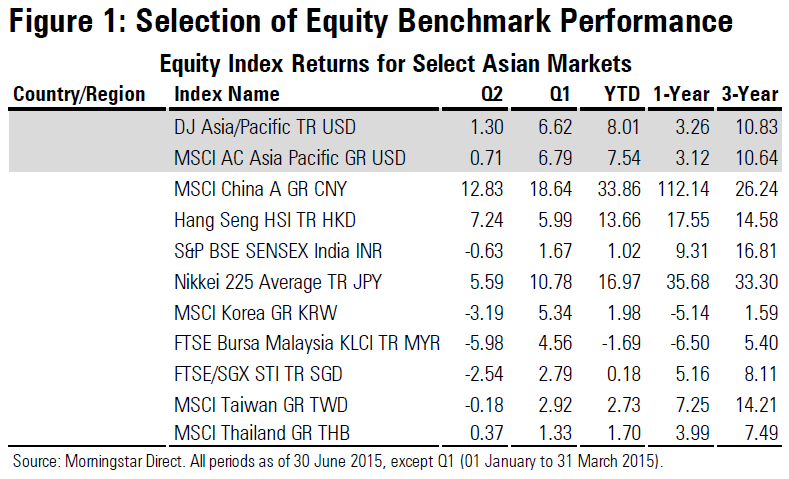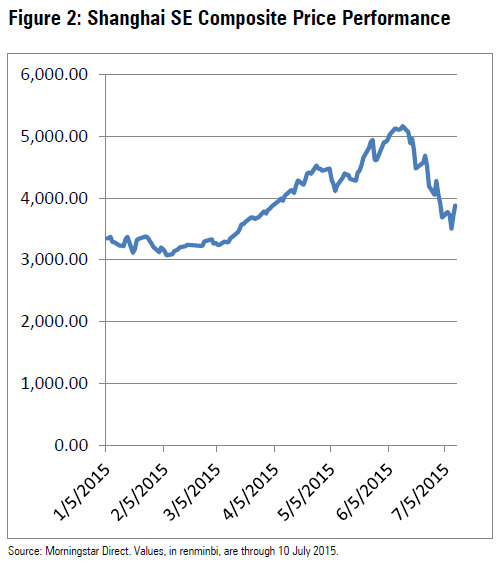 In Japan, however, stocks are climbing steadily, if not briskly, with the Nikkei notching a 5.59% gain in Q2 to add to its 10.78% jump in the first quarter. One year returns topped 35%, while annualized three-year returns were a region-leading 33%.
Prime Minister Shinzo Abe's administration has fed the markets with monetary expansion, delay of a second tax hike, and a request that the 121 trillion yen Government Pension Investment Fund expand its equity investments.
Returns for other markets in the region were all near or below zero in the second quarter. Dow Jones' and MSCI's regional indexes rose 1.30% and 0.71%, respectively, in the quarter.
India's stocks have kept cool, in part because of a deadly heat wave that struck in Q2. Reserve Bank of India Governor Raghuram Rajan has said he's waiting for clearer signals on lending rates and inflation before lowering rates again.
Korea's and Malaysia's markets continued their bumpy rides, posting losses of 3.19% and 5.98%, respectively, in Q2 after gains in Q1 and losses of more than 3% in Q4 of 2014.