For the latest ETF industry news, please refer to our "Asia ETF Roundup (Industry) – April 2019".
Major Markets Performance
Major markets maintained positive momentum in April, responding favourably to the delay of Brexit and positive progress on the trade talks between the U.S. and China. The S&P 500 notched a new all-time-high during the month. The S&P 500 and FTSE 100 rose 3.9% and 1.9%, respectively. Singapore's Straits Times Index and Japan's Nikkei 225 were some of the strongest performing markets, rising 5.8% and 5.0%, respectively, in April. But this was all before the markets turned the opposite direction in early May after new threats from the U.S. to impose another round of tariffs on China. Emerging markets' performance was mixed. Stocks in Russia gained 3.8% in April, while stocks in Pakistan dropped by 4.4% (as measured by their respective MSCI indices in U.S. dollar terms).
The U.S. dollar appreciated slightly in April (as measured by the ICE Spot Index) appreciating 0.2%. Meanwhile, Asian currencies generally depreciated against the greenback. The Chinese Yuan dropped slightly against the U.S. dollar in April, depreciating by 0.2%. The Korean Won was one of the weakest-performing currencies in the region, as it depreciated 2.8% against the U.S. dollar in April, putting its year-to-date depreciation at 4.5%.
Precious metals' performance was mixed in April. Platinum prices rebounded after dropping last month, rising 4.6%. On the other hand, silver and gold prices dropped 1.0% and 0.7%, respectively.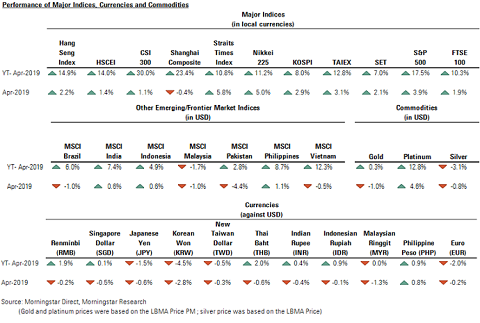 Economic and Market News
US Keeps Rates on Hold; India Cuts Rates
US Keeps Rates on Hold – TheFederal Reserve decided on 1 May 2019 to keep its key interest rates on hold at 2.25 to 2.5%. The next FOMC meeting will be held at 18 and 19 June 2019.
India Cuts Rates by 25bps – Reserve Bank of India (RBI) decided on 4 April 2019 to cut its key rates by 25bps to 6%. It was the second and back-to-back rate cut by the RBI in 2019.
IMF Lowers Worldwide GDP Growth Forecast to 3.3%
During the month, the International Monetary Fund (IMF) published its latest World Economic Outlook:
The IMF now expects the world economy will grow 3.3% this year, down from its previous forecast of 3.5% in January. This 2019 growth rate would be the weakest since 2009 when the world economy slumped. The IMF has been lowering its forecast in each of its quarterly outlook updates, where it forecasted a growth of 3.9% as of July 2018.
U.S. growth expectation in 2019 has been lowered to 2.3% from 2.5% to reflect the negative impact of the partial government shutdown that ended in January.
The growth outlook in the eurozone was also lowered by 0.3% to 1.3% in 2019. Outlook in the U.K. was reduced by 0.3% to 1.2% compared to the outlook 3 months ago.
The growth outlook in emerging market and developing economies was also weighed down by 0.3% to 4.4% in 2019.
China Economic Data: Quarterly GDP Growth Rate remained steady at 6.4% in 2019 Q1; Inflation Rebounded to 2.3% in March; Caixin/Markit PMI dropped to 50.2 in April,Official PMI fell to 50.1
China's 2019 first quarter GDP Growth was recorded at 6.4%, a similar pace of expansion as measured in the previous quarter and in-line with the 2019 target growth of "6% - 6.5%".
China's inflation rate rebounded to 2.3% for March from February's reading of 1.5%.
Both China's official PMI and the Caixin/Markit PMI maintained above the 50-point level but fell slightly in April. The official PMI dropped to 50.1 in April from March's reading of 50.5. Meanwhile, the Caixin/Markit PMI fell to 50.2 in April, compared to March's reading of 50.8.