The growth of ESG investing has contributed to a greater focus on corporate elections, known as proxy votes. These votes have taken on a new level of importance for investors globally, as the proxy voting process is used as a tool for effecting governance changes and a visible indicator of how investment fiduciaries are positioning themselves on sustainability issues.
ESG-specific shareholder resolutions center on topics like climate change; cybersecurity, data protection, online surveillance, and content governance; diversity; environmental stewardship; ESG/sustainable governance; gender-pay equity; human rights; lobbying; political spending; reputational risks of products (opioids and guns); and workplace sexual harassment.
With the requirement that asset managers disclose how they voted on portfolio company ballots, we're able to evaluate how investment fiduciaries exercise stewardship.
In our report "Proxy Voting by 50 U.S. Fund Families," we take a look at how fund families are engaging in the proxy voting process. Here are some of our key learnings.
Support for ESG shareholder proposals is on the rise
Asset-manager proxy voting support for ESG-related shareholder resolutions has increased considerably over the past five years. Across all fund families we evaluated, average support was at 46% in 2019, up from 27% in 2015. However, as a group, the largest asset managers showed lower levels of support than their smaller peers. These trends are shown on the chart below.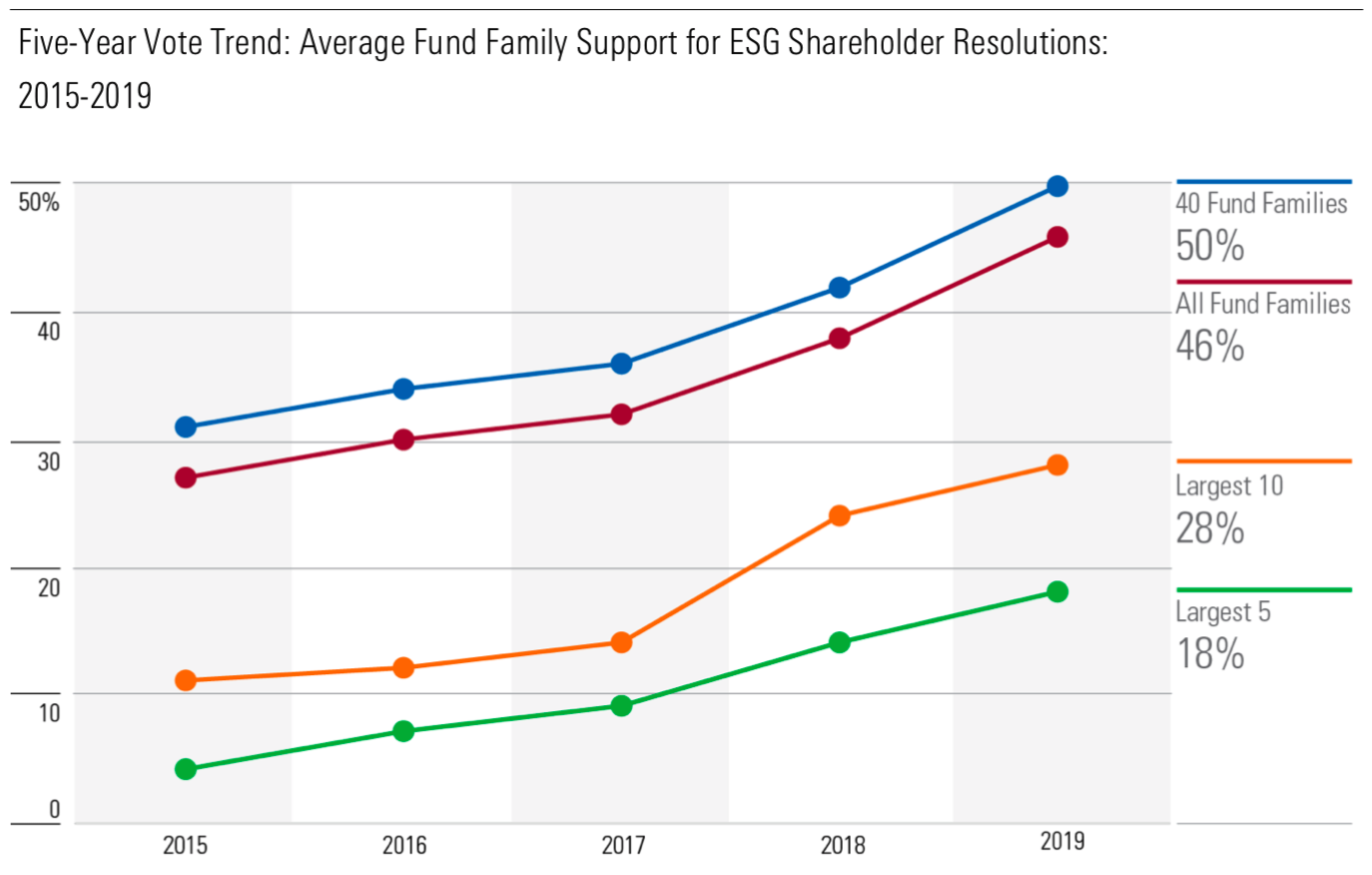 The fund groups whose levels of support for ESG shareholder proposals rose the most over this time period were:
American Century, which supported 56% of ESG resolutions in 2019. This was a substantial increase from a meager 2% level of support between 2015 and 2018.
Eaton Vance, which supported 87% of ESG resolutions in 2019, up from 20% in 2015.
Pioneer, which supported 28% of ESG resolutions in 2019, up from 1% between 2015 and 2018. This lift follows Pioneer's acquisition by European asset manager Amundi, which has a strong focus on ESG investing.
Which fund groups led in support for ESG shareholder proposals?
Of the fund families we evaluated, the ones that supported ESG-related shareholders the most frequently include: DWS, Allianz Global Investors, Blackstone, Nuveen, and AQR Funds. DWS, in particular, led the way with support for 89% of the 998 items it voted on over the past five years.
Conversely, DFA supported the fewest ESG resolutions in that same period: only nine out of 1,004, which is less than 1%. The 10 most supportive and least supportive of ESG shareholder resolutions are shown on the chart below.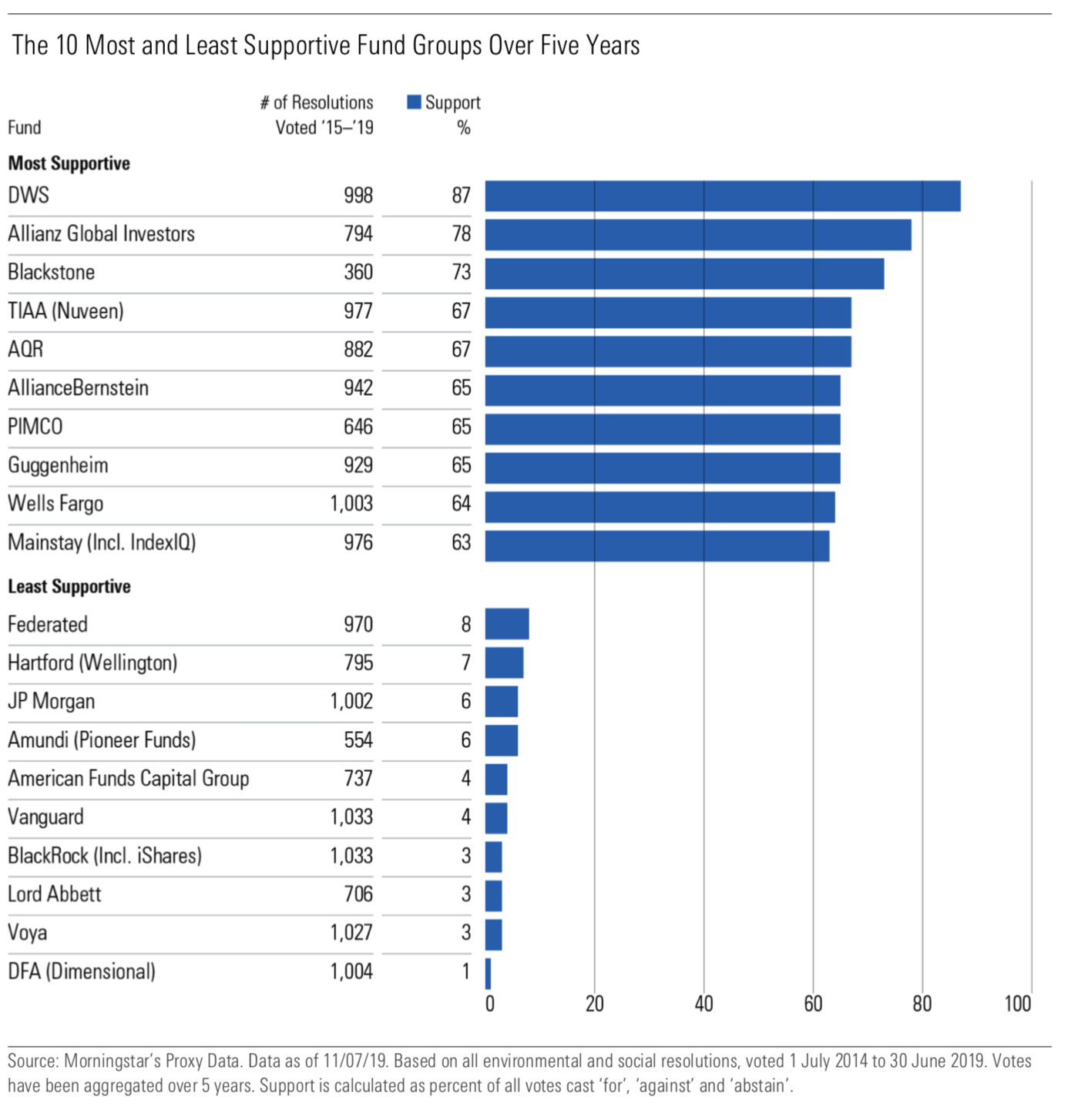 Which issues' shareholder proposals saw the most support?
The ESG issues where shareholder proposals earned the highest levels of support included:
Reputational risks of products. The four shareholder proposals related to this topic—three related to the opioid crisis and one related to gun safety—attracted the unanimous support of most of the fund groups that voted on them.
Diversity and gender-pay equity. The fund groups surveyed supported the 25 resolutions in these two categories 57% of the time, on average. The 11 diversity-related resolutions stood relatively independently as a group and were strongly supported by asset managers. On average, fund families supported these 72% of the time.
Political-spending resolutions. These resolutions received a surge in support from shareholders in 2019 and were supported, on average, 53% of the time.
Large asset managers prevented the passing of some ESG shareholder resolutions
Still, there were a surprising number of cases in which large fund groups voting against ESG-related shareholder resolutions kept the initiatives from achieving majority support.
In cases where a fund group holds a significant proportion of shares outstanding, a vote by that one large asset manager could tip a resolution's outcome to a majority—and the asset manager's lack of support is frequently what prevented it from passing.
Of the 23 ESG resolutions that achieved between 40% and 50% in the 2019 proxy season:
nineteen would have passed if supported by Vanguard,
fifteen would have passed if supported by BlackRock,
four would have passed if supported by T. Rowe Price, and
one would have passed if supported by JP Morgan.
In some cases, even resolutions earning less than 40% would have passed with the support of large fund groups. For instance, Exxon's resolution on lobbying transparency, which earned 37% support, would have passed if both BlackRock and Vanguard had supported it. Similarly, if these fund providers had supported Charles Schwab's proposal for a workforce diversity report, it would have passed with 3 percentage points to spare.
In both cases, most of the other fund groups supported the motions. The full list of votes where these fund providers' support had significant impact is below.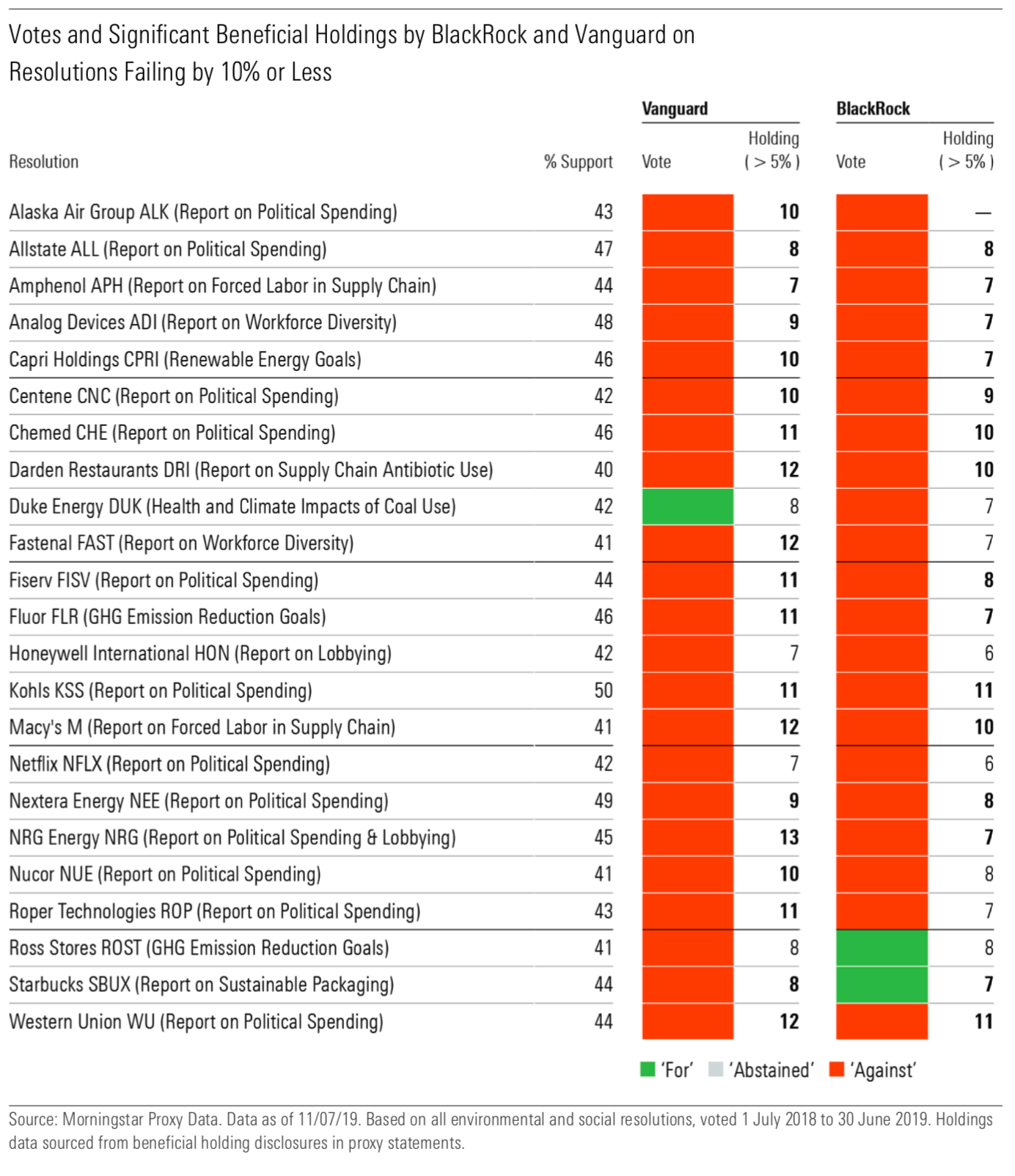 How proxy votes will continue to shape the stewardship ecosystem
Shareholder-vote outcomes point to growing investor concern about material ESG risks and the need for transparency and governance strategies to address them. Yet, because the largest asset managers have been reluctant to vote against management on sustainability issues, only a few sustainability-focused resolutions pass with majority support each year.
Both BlackRock and State Street have recently signaled their readiness to use proxy voting to move the dial on sustainable business. Their action in this area could sway outcomes on several key issues and result in corporate management becoming more motivated to engage with investors.