For the latest ETF industry news, please refer to our "Asia ETF Roundup (Industry) – June 2020".
Major Markets Performance
While reopening the global economy was a theme in May, concerns of a second wave of the COVID-19 pandemic dominated headlines in June. Geopolitical tensions also flared. Towards the end of the month, China passed a new national security law in Hong Kong. U.S. lawmakers responded by approving new Hong Kong-related sanctions on China. Global markets shrugged it all off and posted another month of gains.
Stocks in U.S. and Europe rose 2-4%. Many emerging markets also posted gains in June. Stocks markets in Brazil, India, Indonesia and the Philippines all rose around 8%. The Chinese equity markets also performed well. Both onshore and offshore markets were up 8-9% (proxied by the CSI 300 Index in USD terms and the Morningstar China Index, respectively). Despite a strong finish to the first half, global stock markets still finished in negative territory. Developed markets slipped 6.3% while the emerging-markets stocks dropped 9.9%. China's equity markets fared better. Onshore and offshore markets gained 1.3% and 4.9%, respectively, for the year-to-date through June.
The U.S. dollar depreciated again in June, slipping 1.0% (as measured by the ICE Spot Index). Asian currencies generally appreciated against the greenback. Notably, the Chinese Yuan rose 1.0% against the U.S. dollar, putting its year-to-date performance at -1.5%. Precious metals' performance was mixed during the month. The prices of gold and silver rose 2.3% and 1.4%, respectively, while the price of platinum fell 1.3%. Precious metal prices had a volatile first half. Gold prices gained 16.7% while platinum prices plummeted 14.5%.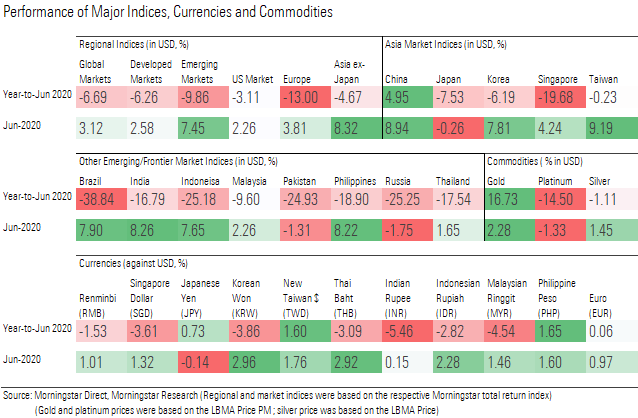 Economic and Market News
Rate Cuts in Brazil, Indonesia, Russia, Philippines, Pakistan
Brazil Cut Rates by 75bps – On 17 June, the Central Bank of Brazil decided to lower the Selic rate by 75bps to 2.25%. The bank has cut rates by 225bps in total this year.
Indonesia Cut Rates by 25bps – On 18 June, the Bank Indonesia decided to cut the BI 7-day Reverse Repo Rate by 25bps. The bank has cut rates by 75bps in total this year. The Bank stated that the "policy to stabilise rupiah exchange rates and quantitative easing will be continued."
Russia Cut Rates by 100bps – On 19 June, the Bank of Russia decided to cut key rate by 100bps to 4.50%. The bank has cut rates by 175bps in total this year. The Bank stated that the rate cut decision was taken to limit the risk of inflation deviating downwards from the 4% target and to maintain inflation close to that target.
The Philippines Cut Rates by 50bps – On 25 June, the central bank of the Philippines decided to cut the interest rate on the BSP's overnight reverse repurchase (RRP) facility by 50bps to 2.25%. The bank stated that "keeping an accommodative stance will further ease the cost of borrowing and ensure ample credit and liquidity in the financial system as the economy transitions toward recovery in the coming months."
Pakistan Cut Rates by 100bps - On 25 June, the State Bank of Pakistan decided to cut its policy rate by 100bps to 7.00%. The bank has cut rates by 625bps in total this year. The bank stated that "the priority of monetary policy has appropriately shifted toward supporting growth and employment during these challenging times."


China Economic Data: Inflation Moderates to 2.4% in May; Caixin/Markit PMI and Official PMI Both Expand
China's inflation moderated further in May as the CPI rose 2.4%. This was lower relative to April's reading of 3.3% and March's reading of 4.3%. In May, food prices rose by 10.6% compared to a year ago, a key contributor to the slower growth in inflation.
China's Caixin/Markit PMI expanded further in June, registering at 51.2. This compares to May's reading of 50.7. The official PMI in June also expanded, registered at 50.9, slightly above May's reading of 50.6.