For the latest ETF industry news, please refer to our "Asia ETF Roundup (Industry) – July 2020".
Major Markets Performance
Geopolitical tensions made headlines in July. Most notably, the U.S. ordered the closure of the Chinese consulate in Houston. China responded by ordering the closure of the U.S. consulate in Chengdu. In July, COVID-19 continued to loom around the world. The pandemic's economic impact was clear in the U.S. second quarter GDP figures. U.S. GDP plunged at a worst-ever rate of 32.9% in the quarter ending in June. This stands in stark contrast to China's Q2 GDP growth of 3.2% (compared to its Q1 figure of -6.8%). Despite the negative headlines, U.S. markets continued to march higher. The Morningstar US Index was up 5.8% for the month. The S&P 500 closed the month just 3.4% below the its February high. The Nasdaq hit a fresh record high in July. Elsewhere, equity markets were generally up. Chinese stocks had another positive month. The Morningstar China Index rose 9.6% (onshore A-shares were added into the index since late-June, at around 14% weight). Many emerging markets also posted gains in July. Brazil and Taiwan posted gains of 14.5% and 12.5%, respectively (proxied by the respective Morningstar indices in USD terms).
The U.S. dollar depreciated sharply in July, slipping 4.2% (as measured by the ICE Spot Index). The Euro appreciated 5.3% against the dollar. Asian currencies generally appreciated against the greenback, in particular. The Japanese Yen rose 2.0%. The Chinese Yuan rose another 1.4% against the U.S. dollar, narrowing its year-to-date decline to -0.2%. A weaker U.S. dollar helped precious metals' performance. The price of gold surge 11.1% to a new record high during the month. The price of silver spiked 34.9% higher, catching up with gold's year-to-date gains. For the year to date through July, the price of gold and silver rose 29.7% and 33.4%, respectively.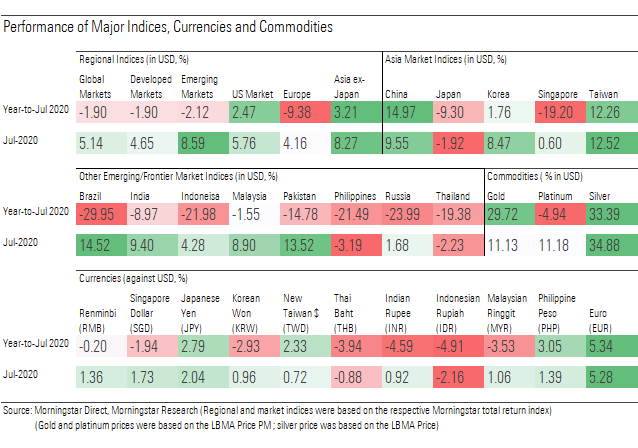 Economic and Market News
Rate Cuts in Malaysia, Indonesia, Russia
Malaysia Cut Rates by 25bps – On 7 July, the Bank Negara Malaysia decided to cut the Overnight Policy Rate by 25bps to 1.75%. The bank has cut rates by 125bps in total this year.
Indonesia Cut Rates by 25bps – On 16 July, the Bank Indonesia decided to cut the BI 7-day Reverse Repo Rate by 25bps. The bank has cut rates by 100bps in total this year.
Russia Cut Rates by 25bps – On 24 July, the Bank of Russia decided to cut key rate by 25bps to 4.25%. The bank has cut rates by 200bps in total this year.


China Economic Data: Q2 GDP Grew 3.2%; Inflation at 2.5% in June; Caixin/Markit PMI at 9-Year High; Official PMI Expands
China's Q2 GDP grew 3.2% year-on-year. Together with Q1 (a contraction of 6.8% year-on-year), the country's GDP contracted 1.6% in the first half of 2020.
China's inflation registered at 2.5% in June, slightly higher than May's 2.4%. In June, food prices rose 11.1% year-on-year, higher than May's reading of 10.6%.
China's Caixin/Markit PMI expanded further in July to a 9-year high, registering at 52.8. This compares to June's reading of 51.2. The official PMI in July expanded further, registered at 51.2, above June's reading of 50.9.