For the latest ETF industry news, please refer to our "Asia ETF Roundup (Industry) – August 2020".
Major Markets Performance
U.S.-China tensions resurfaced in the headlines in August. The U.S. announced it would ban Tik Tok, a short-form video app, if ownership doesn't change hands within weeks. However, the sale hit some roadblocks in early September and the U.S. threatened to ban more Chinese apps, all based on national security concerns. On the other side of the Chinese border, the China-India border dispute heightened. In early September, India banned another 118 Chinese apps, including Baidu and Alipay. The Indian government first banned 59 apps, including Tik Tok and WeChat, in June. Elsewhere in Asia, Japan's Prime Minister, Shinzo Abe, announced his resignation, citing health reasons.
Global stocks posted another month of gains. The Morningstar Global Markets Index gained 6.1% in August. The U.S. market marched higher by another 7.2% in August (proxied by the Morningstar US Market Index). The S&P 500 and Nasdaq notched new highs during the month before giving back some gains on 3rd September. Many Asian markets posted gains for the month. Equity markets in China and Japan rose 5.5% and 7.9%, respectively. Performance in the emerging markets, on the other hand, was mixed. India, Indonesia and Pakistan rose 2-5% while Brazil plunged 8.4% (proxied by their respective Morningstar indices in USD terms).
Asian currencies generally appreciated against the U.S. dollar in August. The Chinese Yuan rose 1.8%, putting its YTD gain against the U.S. dollar at 1.6%. Precious metals' performance was mixed. The price of silver spiked 13.6%, putting its YTD gain at 51.6%. Meanwhile, the price of platinum rose 2.8% and the price of gold dropped by 0.4%.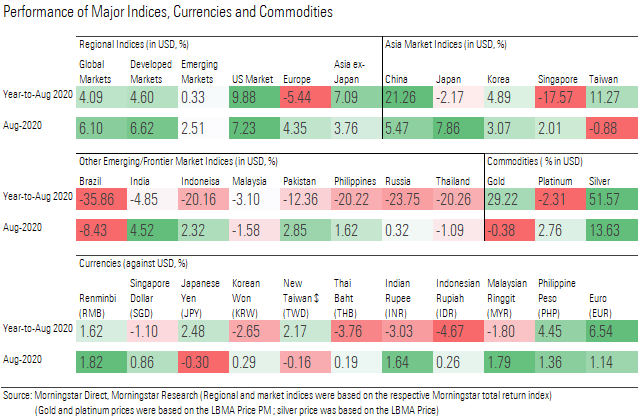 Economic and Market News
Rate Cuts Slow
Brazil Cut Rates by 25bps – On 5 August, the central bank of Brazil decided to cut its Overnight Policy Rate by 25bps to 2.00%. The bank has cut rates by 250 basis points in total this year.


China Economic Data: Inflation at 2.7% in July; Caixin/Markit PMI at Highest Since January 2011; Official PMI Contracted Slightly
China's inflation registered at 2.7% in July, slightly higher than June's 2.5%. In July, food prices rose 13.2% year-on-year, higher than June's reading of 11.1%. Pork prices rose 85.7% from a year ago.
China's Caixin/Markit PMI expanded further in August, highest level since January 2011, registering at 53.1. This compares to July's reading of 52.8. The official PMI in August contracted slightly, registered at 51.0. This compares to July's reading of 51.1.