For the latest ETF industry news, please refer to our "Asia ETF Roundup (Industry) – September 2020".
Major Markets Performance
Global markets reversed course in September. The Morningstar Global Markets Index dropped by 3.1%. The S&P 500 and Nasdaq notched new highs early in the month, but subsequently slipped. The Morningstar US Market Index corrected 3.7% in September. Emerging markets stocks generally followed suit. Chinese equity markets corrected 3.8% during the month, while Brazil, Indonesia, Russia and Thailand posted larger losses ranging from 7% to 12% (proxied by their respective Morningstar indexes in US dollar terms).
The U.S. dollar strengthened by 1.9% in September (as measured by the ICE Spot Index). The Euro depreciated 1.9% against the greenback. Asian currencies' performance against the U.S. dollar was mixed. The Chinese Yuan rose another 0.6%, putting its YTD gain against the U.S. dollar at 2.3%. On the other hand, the Indonesian Rupiah and Thai Baht depreciated around 2% against the U.S. dollar. Precious metals had a bad month. The price of silver price plummeted 13.3%, while the prices of platinum and gold declined 4.9% and 3.6%, respectively.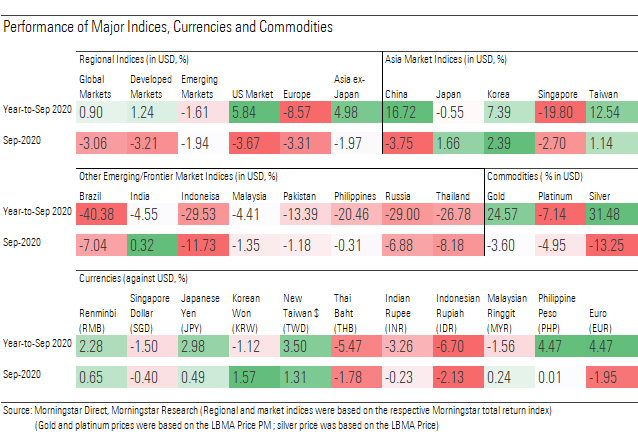 Economic and Market News
Vietnam Cut Rates by 50bps
On 30 September, the State Bank of Vietnam announced it would cut its refinancing rate by 50bps to 4.00%. The bank has cut rates by 200 basis points in total this year.
China's QFII and RQFII Combine, Investment Scope Widens
On 25 September, the China Securities Regulatory Commission, the People's Bank of China and the State Administration of Foreign Exchange jointly announced that the Qualified Foreign Institutional Investor (QFII) and Renminbi Qualified Foreign Institutional Investor (RQFII) schemes will be combined effective from 1 November 2020. In addition, the investment scope of QFIIs and RQFIIs will be expanded to include securities admitted on the National Equities Exchange and Quotations (NEEQ) market, private investment funds, financial futures, commodity futures, options, etc. Furthermore, qualified investors may participate in bond repurchase transactions, margin trading and securities financing on stock exchanges, and securities lending to securities finance company. The announcement can be found here.
China Economic Data: Inflation at 2.4% in August; Caixin/Markit PMI Remained Strong; Official PMI Expanded
China's inflation registered at 2.4% in August, slightly lower than July's 2.7%. Rising 11.2%, food prices remained the key driver of consumer inflation in August.
China's Caixin/Markit PMI remained strong in September, registering at 53.0, slightly lower than August's reading of 53.1. The official PMI in September expanded to 51.5, further from August's reading of 51.0.