For the latest ETF industry news, please refer to our "Asia ETF Roundup (Industry) – December 2020 and January 2021".
Major Markets Performance
Global equity markets made a strong start to the New Year, but slipped towards month end. The S&P 500 Index, Dow Jones Industrial Average, and the Nasdaq notched new all-time highs during the month before turning south. The Morningstar US Market Index ended January 0.6% lower. Despite all the twists and turns regarding the November U.S. Executive Order on Communist Chinese military companies, Chinese stocks had a strong month. The Morningstar China Index rallied 7% in January. Emerging markets' performance was mixed. Monthly returns among developing stock markets ranged from -8% to 5% (proxied by their respective Morningstar indexes in US-dollar terms).
Looking back on 2020, the performance of global equity markets belied the damage done by the Covid-19 pandemic. The Morningstar Global Market Index gained 16.6% for the year. While the pandemic caused turmoil in the markets when it first struck, many markets recovered and recorded sizable gains. Proxied by their respective Morningstar indexes in US-dollar terms, the US market closed the year with a 20.9% gain, China, Korea and Taiwan gained 31.6%, 46.9% and 36.9%, respectively. Emerging markets generally scored smaller gains, ranging from 4% to 14%. The broad Morningstar Emerging Markets Index rose 18.8%, with Chinese stocks making a strong contribution.
When the pandemic struck, central banks brought out the big guns—cutting rates and buying assets. Governments applied fiscal stimulus as well. These measures affected currency markets. The U.S. dollar depreciated in 2020. The ICE USD Spot rate was down by 6.7%. Many Asian currencies appreciated against the U.S dollar. The Japanese Yen, Korean Won and New Taiwan Dollar rose 5-7% versus the greenback. Amid escalating U.S.-China tensions, the Chinese Yuan appreciated strongly against the U.S. dollar--gaining 6.5% in 2020. The Chinese Yuan strengthened by another 1.2% in January.
Amid the pandemic and heighted geopolitical tensions around the world, precious metals' performance was generally strong. Silver prices rose by 46.8%. The price of gold climbed 24.6%. Platinum prices increased a relatively modest 6.0%. In January 2021, silver prices maintained their upward momentum, gaining another 3.5%. Meanwhile, the price of platinum rose by 10.0% in January and gold prices dropped 1.3%.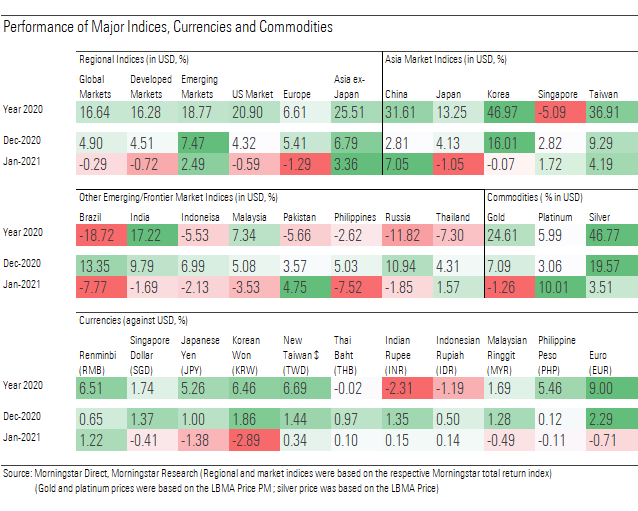 Economic and Market News
STAR Market Stocks Are Now Available to Institutional Investors on the Hong Kong Exchange
The Hong Kong Exchange announced that eligible A-shares listed on the Shanghai Stock Exchange's (SSE) Sci-Tech Innovation Board (STAR Market) would be included into Stock Connect, effective 1 February 2021. STAR Market-listed shares that are constituent stocks of the SSE 180 Index and the SSE 380 Index, or have corresponding H-shares listed in Hong Kong for A+H companies, will be eligible for northbound trading under Shanghai-Hong Kong Stock Connect while their corresponding H-shares will be included in southbound trading. Only institutional professional investors can access the STAR Market-listed shares given the market's special investor eligibility requirements. In addition, for A+H companies with A-shares listed on Shenzhen Stock Exchange, their corresponding H-shares will also be tradable through Southbound trading of Shanghai-Hong Kong Stock Connect effective 1 February 2021.
China Economic Data: 2020 GDP Growth clocked in at 2.3%; Inflation at 0.2% in December; Caixin/Markit PMI and Official PMI fell in December 2020 and January 2021
China's 2020 GDP growth registered at 2.3% (and 6.5% YoY in Q4 2020), the lowest in more than four decades. Recall that China did not set a target for 2020 GDP growth due the COVID-19 pandemic and that 2019 GDP growth was 6.0% (revised down in December 2020 from the earlier reported figure of 6.1%).
Inflation registered at -0.5% and 0.2% in November and December 2020, respectively. This compares to an October reading of 0.5%. The negative reading in November was the first time CPI fell in 11 years.
China's Caixin/Markit PMI fell to 53.0 in December 2020 and further to 51.5 in January 2021 from a 10-year high reading of 54.9 in November 2020. The official PMI followed a similar trend, the reading fell to 51.9 in December and further to 51.3 in January, weaker than November's reading of 52.1.