For the latest ETF industry news, please refer to our "Asia ETF Roundup (Industry) – April 2021".
Major Markets Performance
COVID-related news occupied headlines in April as there was a sharp surge in cases in India and the COVID-related death toll surged in Brazil. Despite the bad news, global equity markets generally had a good month. The Morningstar US Market Index rose 5.3%. The S&P 500, Dow Jones Industrial Average and Nasdaq all notched new all-time highs during the month. Chinese equity markets rebounded in April. The Morningstar China Index rose 1.6%. Many other Asian markets recorded gains too. Stocks in Taiwan rose 9.0% and Korean equities rose 4.3% (proxied by their respective Morningstar indexes in U.S.-dollar terms).
The ICE USD Spot Index retreated in April, falling 2.1%. This pared the greenback's year-to-date gains to 1.5%. The Euro and many Asian currencies appreciated against the U.S. dollar in April. The New Taiwan Dollar and Korea Won appreciated around 2% against the greenback while the Indian Rupee depreciated 1.3%. The Chinese Yuan strengthened 1.3% against the U.S. dollar, putting its year-to-date gains at 1.1%.
Precious metals had a positive month. Gold, silver and platinum prices rose anywhere from 3 to 8%.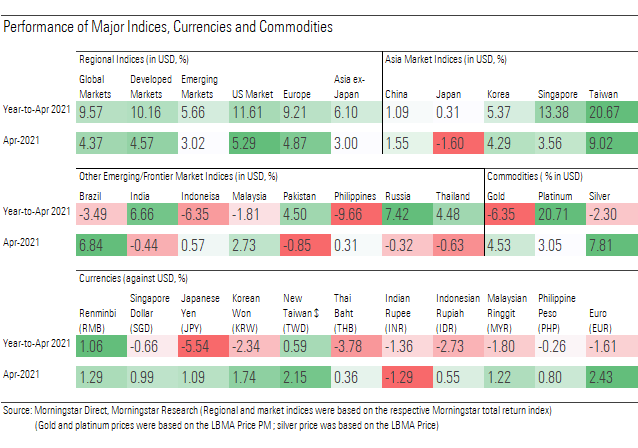 Economic and Market News
Rate Hikes in Russia
Russia Hikes Rates by 50bps – On 23 April, the Bank of Russia hiked its key interest rate by 50bps to 5.00%. This marked the second hike this year, following a 25bps increase in March.The Bank stated that "The rapid recovery of demand and elevated inflationary pressure call for an earlier return to neutral monetary policy. The Bank of Russia will consider the necessity of further increases in the key rate at its upcoming meetings."
China Economic Data: Quarterly GDP Grew 18.3% in Q1 2021; Inflation at 0.4%; Caixin/Markit PMI Expanded to 51.9; Official PMI Fell to 51.1
China's first-quarter 2021 GDP grew 18.3% year-on-year. This was up from 3.2% year-on-year growth recorded in the previous quarter. Note that the 2021 GDP growth target was set at "above 6%".
Inflation registered at 0.4% in March after two consecutive months of deflation. The February and January inflation readings were -0.2% and -0.3%, respectively.
China's Caixin/Markit PMI reading rebounded to 51.9 in April. This compared to a reading of 50.6 in March. Meanwhile, the official PMI in April fell to 51.1 from 51.9 in March.