Though most sustainable funds are actively managed, the menu of passive sustainable funds has grown in number, size, and complexity over recent years. And so, too, has the due-diligence burden for investors.
The research recently published in our report, "Passive Sustainable Funds: The Global Landscape 2020," has shed light on some key considerations when choosing passive sustainable funds.
Is an Active or Passive Fund the Right Fit?
The first question investors must ask themselves is whether an active or passive approach will best meet their needs.
Passive funds tend to be much cheaper than their active counterparts. This is not a minor point, as fees have been shown to be one of the most reliable predictors of future fund performance.
Another advantage of index investing is the transparency offered. Passive investors can see exactly what is held by the fund through an inspection of the index. That said, the opacity of some ESG metrics can mean the true reasons for inclusion or exclusion are still tricky to ascertain.
On the other hand, some believe that, in its purest form, sustainable investment can be implemented only by active managers. In some ways, the rigid nature of passive investing does not lend itself to the nuanced world of environmental, social, and governance considerations. For example, liquidity constraints mean that passive strategies must steer clear of smaller, often more impactful companies. Those seeking the most ESG impact might expect a level of engagement between fund management and portfolio company that is not possible in a passive wrapper.
Key Considerations When Choosing a Passive Sustainable Fund: Index/Strategy Analysis
As with any passive fund, the assessment of a passive sustainable fund starts with the analysis of the underlying index. Not all sustainable indexes are created equal, and understanding the rules that govern them is crucial.
Sustainable Focus

. An investor must first determine whether the sustainable focus of the index and the metrics it uses are aligned with the ESG criteria that he wishes to emphasize. For example, there are many environmental metrics, such as carbon footprint, fossil-fuel reserves, green revenue, and so on. Different metrics reflect different company attributes, and the choice of one metric over another may lead to different index compositions. A lack of consensus on what constitutes a good ESG company means that it is also important to understand the sustainable scoring systems employed by the index provider. A company that can have a high ESG score according to one may have a poor ESG score according to another.
Approach

. As presented below, identifying whether the fund takes an exclusions-only, broad ESG, or thematic approach gives a strong indication of the role the fund should play in your portfolio. Exclusions-only funds tend to closely share the characteristics of a parent but also result in a lighter ESG flavor. Conversely, thematic funds, particularly those with a narrow focus, tend to have distinct risk and return drivers and are best used as satellite holdings.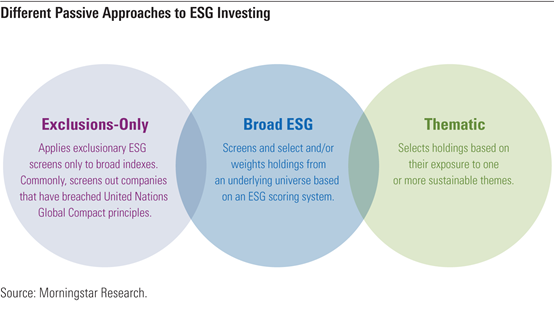 In part 2 of this article, we will also look into the considerations on the fund level when choosing a passive sustainable fund.